Never underestimate the personal touch of a business card!
Put your contact information in the hands of your customers in an eye-catching and concise way!
Most think that the increase in digital marketing and online communication has rendered the business card ineffective – but this is far from the truth!
A business card is a path to opportunity. Think of a situation where you encounter a potential client. What do you do? You introduce yourself and begin to tell them about your business. During your conversation, the time will come to exchange your contact information.
A business card saves you time and makes you look professional. You're not stuck searching for a pen to write your phone number or website on a receipt or napkin, and you also give them a sense that this isn't your first rodeo!
What do we offer?
Impactful Graphic Design
Standard & Unique Sizes
Premium Paper Options
Direct Mail/First Class Mail/EDDM
Campaign Management
Marketing Consultation
Competitive Pricing
Out of This World Customer Support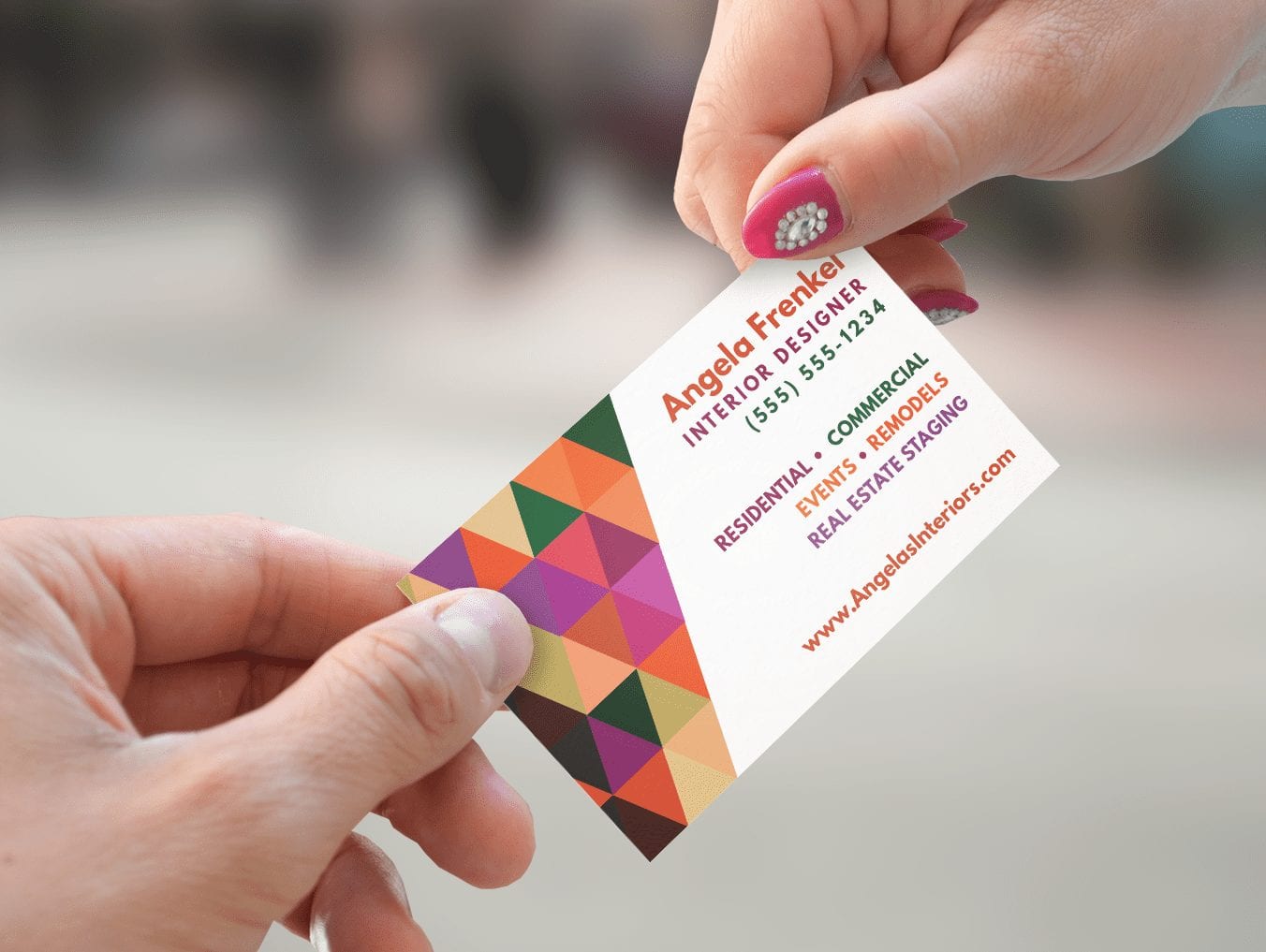 Personal Touch:

 

Rather than looking at your phone to write an email or input contact information into your contacts app – spend that face-to-face time making eye contact with your client! Use your interaction to engage them in conversation, find out their needs & truly listen. This is an extremely valuable leg-up that would have been lost with only an impersonal digital exchange of information.
First Impressions: You want your potential clients or affiliate businesses to associate you and your brand with a professional image. Your business card is often the first thing they will see that contains your logo, business name & information – so make it count!
Build Trust & Credibility: To put it simply, customers expect a reputable brand to have print material, especially business cards. Being at the ready with a business card implies reliability, dependable business practices and evidence of experience.
We offer an array of professionally designed templates, ready to order TODAY!
The Guide to Business Card Do's & Don'ts
inetUSA's Symphony of Marketing offers these tips & guidelines to help you put your best foot forward!
---
Keep it Appropriate for Your Business
If your business is on the 'traditional' side such as financial services, banking, legal services, etc – sticking to a neutral color palette and simple, easy-to-read fonts are often best. We recommend a bright and clean design using a simple layout, maybe with one accent color used appropriately.
If you are in a more casual, unique or creative line of business business such as a salon, clothing store, designer/artist, pet services, etc – use your niche to your advantage! Adding punches of color and fonts with personality will really make a difference. Readability is still important, but feel free to express your creative side. Your business card should create some initial buzz about your business in the mind of the beholder!
Use Both Sides!
Never leave the back side of your business card blank – that is prime real estate! There are many things you can use it for, including:
An image or simple graphic
Additional information
"Find Us On Social Media" plugs
A promotion or guarantee
The same information as the front, but in an alternative language
Mistake Simple for Cheap!
We hear it from our customers all the time – "I just want something simple, nothing fancy!" – and while simple can work, it must be done right.
Font:

 

There are thousands of fonts that are simple and clean, but still unique and professional. Don't settle for the basic and overused fonts! (We're looking at you Arial & Papyrus…)
Choice of Material: Say no to flimsy paper or card stock! We have glossy, matte or smooth options varying thicknesses depending on your needs. We also can customize any order to meet your specific needs. For example: Do you want a brushed metal effect? Do you need weatherproof business cards? Do you want a textured card like linen or wood-grain? We can work with you to get you a quote for any unique or custom jobs quickly!
Design: Avoid clip art & cheesy graphics at all costs! Those instantly cheapen the image of both you and your business. Let our team be your guide when it comes to including the right graphics or images on your card.
Skip or Skimp on Your Logo!
Including your logo on your business card is very important – branding and a great impression is crucial for your business to "stick" in the mind of your customers. At a glance, your logo can tell potential clients or customers who you are, what type of product or service you sell, or what benefits you provide. (We repeat, no clip art!!) Learn more about the importance of the logo here.
Need assistance finding your audience? Our team can help!