Think outside the mailbox with a Door Hanger campaign!
Keep your business at the top of your customer's mind by hanging an offer right on their front door!
Door hangers work because they are undeniable! They will be the first thing your customers see when arriving home. Because people must physically remove the door hangers, it forces them to interact with your marketing piece.
Almost 100% of the time, the recipient will scan the door hanger and because of the unique approach – they will be sure to remember your message.
If your hanger contains a promotion or coupon – it's also likely that your customer will hold onto the piece and see it multiple times creating more impressions, more memorability, and therefore, more sales!
What do we offer?
Impactful Graphic Design
Standard & Unique Sizes
Premium Paper Options
Campaign Management
Marketing Consultation
Competitive Pricing
Out of This World Customer Support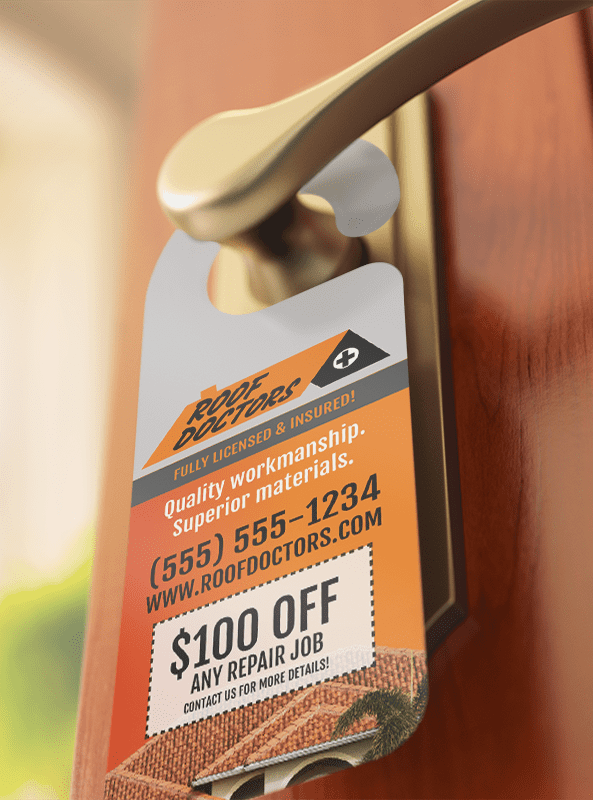 What are some of the best ways to utilize a Door Hanger Campaign?
Saturation Distribution:

 

This means placing your door hanger on every door in a certain neighborhood/area. This is effective for a business or service that everyone needs! (Think: 15% off your meal at a local restaurant, discount on oil changes, pet sitting or grooming services, etc.) This works similar to the approach of EDDM, without having to account for postage or the time it takes for your pieces to arrive through the mail. This requires means of distribution, and a plan for distribution, which we can help you to organize & create as well!
"10 Around" Distribution: This approach works best for marketing to people that are most likely to have seen the work you are doing for a current client. For example, a roofing company who just put a brand new roof on a house could benefit from a "10 Around" campaign. These campaigns entail placing door hangers on 10-20 surrounding homes who have likely seen their signage, or van/trucks in the neighborhood, who may be admiring their neighbor's new roof! This type of campaign is known to yield better response rates for visible home services such as landscapers, roofers, pavers, painters, concrete, window cleaners, etc. Often times your current happy clients may even be willing to list their address – think of the impact of a door hanger that says

 

"We just painted your neighbor's home at 123 Sesame Street, swing past to check it out!"
Geographical Event Campaign:

 

These types of campaigns work well for businesses who's products or services may be in higher demand following a local happening or event. Following up weather events are usually an impactful approach. For example, an auto-body shop distributing door hangers after a large hail storm has dented cars all over the city! Or perhaps a drywall repair company after an area experiences a flood. An example of a non-weather geographical event might be political advertising for upcoming local or national elections, or promoting specific events in your area.
Need assistance finding your audience? Our team can help!