Websites That Sing A Different Tune
Fast, mobile-ready websites that work for any business.
Don't Waste Your Time Making Your Own Site
Your job is owning your business, and while sometimes you might have to get a little dirty and do things yourself, that shouldn't include building your own website. What you need is a website that matches your business, with the message you need, and for it to be done without you spending the next six months doing it all by yourself.
Dozens of Choices and Layouts to Choose From
Your website should always be working for you, whether it be sending you leads, scheduling your meetings, or even acting as just a digital brochure for your business. We help build you a website based off of what you want and what's best for your business. We don't just want to give you a static website to be left alone and forgotten, but to be another instrument in your personal marketing symphony.
Just to start out, we have over 15 different website templates, dozens of page layouts and designs, and functions available from a support ticket system for growing businesses to a portfolio of your past and current work projects. Just because you're not the one building and changing your website doesn't mean you can't get what you want. Choose from our ever-growing list of webpage layouts to match the form and function of your business, build something completely unique, or tell us how to make your ideal website and we'll show you the results.
There's no difficulty involved and you never lose your voice dealing with your own website. Its easy, its simple, and the only thing you have to do is tell us about your business. We combine your website with our other marketing tools to help support a powerful, complete marketing plan. Our websites are fast, light, look beautiful on desktop, tablet, and mobile, and we push all of your website leads directly to your inbox! There really is no hair-pulling nonsense. We're here to help you build a bigger, better business through your marketing, and your website is no exception.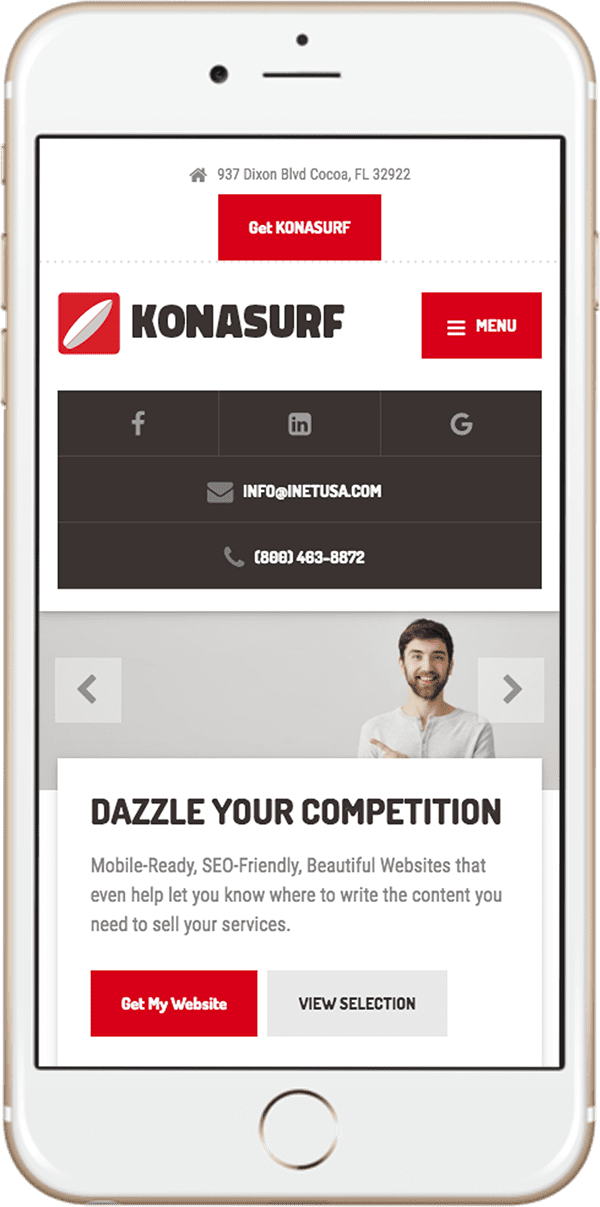 Why Choose
inet

USA's Symphony of Marketing

For Your Website Solution?

We don't offer cheap $5/mo plans like you'll find with some other hosting companies. We believe in providing full service solutions for our customers. We work closely with each customer throughout the website design process and continue to provide excellent support even after your website is completed.

We believe in providing holistic marketing strategies for our clients; Your website is only one piece of the marketing strategy. We'll design your website using graphics and techniques that work seamlessly across other marketing channels including print and direct mail.
Seamlessly Integrated
Any website design we create for you can be seamlessly integrated with your print and direct mail marketing – tailor-made for you and your business.
Personal Webmaster Services
Let us do all the work! We provide full service webmaster solutions so you can spend more time focusing on your business.
Uniquely Yours
Let our professional website and graphic designers work with you to help bring your vision to life with your custom website and integrated marketing campaign.
What Comes With My Website?
We provide Website hosting, Google Business set-up (for Maps like Waze and Google, & local SEO), and of course, your website. We work with you to build your website based on your specifications and your order, followed by setting-up and/or integrating your Google Business, linking your social media (if you have any, or wish to add them), and then begin hosting your website.
What is Website Hosting?
There are two forms of website hosting, the first being the website URL, called domain hosting. This is the company that leases your website name to you (like
inet
USA.com
). The latter form, is often called website hosting. Website hosting is the digital location of your website, and determines the engine that runs it. This includes how fast your website runs, where your data, text, website pages, and pictures are stored. Think of it as the home of your website, while the domain hosting is the address of that home. You need both of these in order to have a website. Website hosting also includes the maintenance, upkeep, and security of your website. Its important to be able to protect your customers' data and make sure that the site doesn't fall into disrepair. You'll end up having to pay a bill for both the domain hosting and the website hosting, no matter who you have build your website. When you have a website with
inet
USA
, you also receive modern protection on your website. You may not know, but search engines like Google, Bing, and DuckDuckGo, have changed how they process websites depending on their website security and how mobile-friendly they are. Out of the box,
inet
USA
websites are heavily-fortified so that you don't have to worry about not being visible online due to these Search Engines.
Website Hosting
Website Updates

Website Upkeep

Fast Loading Speed

Spam Protection

Hacking Protection

15 minutes of free Website Developer Work per month
Need assistance finding your audience? Our team can help!