Have you started your Black
Friday,

Small Business

Saturday

or Cyber

Monday

marketing?


If not…the time is NOW!

Once you decide on your specials, offers or discounts, the next step is getting the word out. For best success, think about how you can spread your message to current, loyal clients as well as new potential customers! Here are some of the ways you can maximize your reach to get the best results. Happy marketing!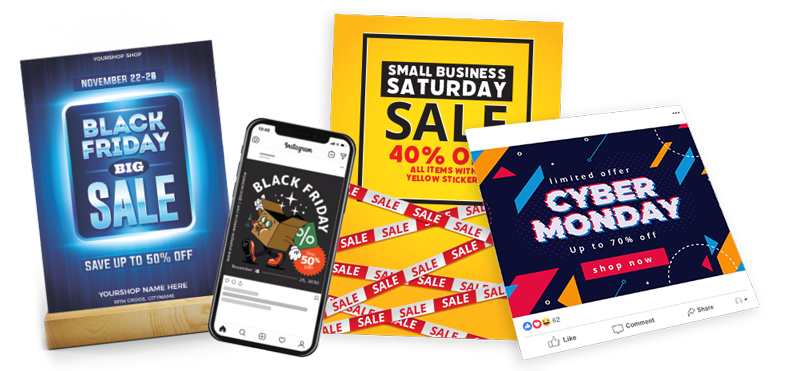 Hang eye-catching posters in the windows, entrances, exits & by your checkout stations.
 
Attach mini-flyers to your customers' receipts with every purchase leading up to the start of your sale/promotion.
 
Pass out flyers in your local area: event boards, neighboring businesses, and at relevant events where allowed.
 
Engage online with your social media audience by posting stunning graphics promoting your sales, discounts, special edition items, etc.
 
Send a direct mail postcard to your customer base or prospect list inviting them to take advantage of your offer(s).
 
No mailing list? Mail to a whole neighborhood using Every Door Direct Mail™ (EDDM™)
 
Give them even more incentive to shop with you by offering FREE gift certificates with purchases over a certain amount – keep them coming back for more!
 
Add a holiday specials page on your website or blog – direct online traffic here for higher conversions, or use it as a landing page to track the results of your direct mail campaigns.
 
Send an email blast (or a few!) to your customer base or email list.
 
Publish a sponsored post on social media to reach a larger audience and boost traffic to your website or landing page.
Need help making it happen? We've got you covered!
Click below to view pricing & options for our Marketing Bundles – Available through 11/15/21 – HURRY!