Posted on July 27, 2017 by Joy Gendusa in Business2Community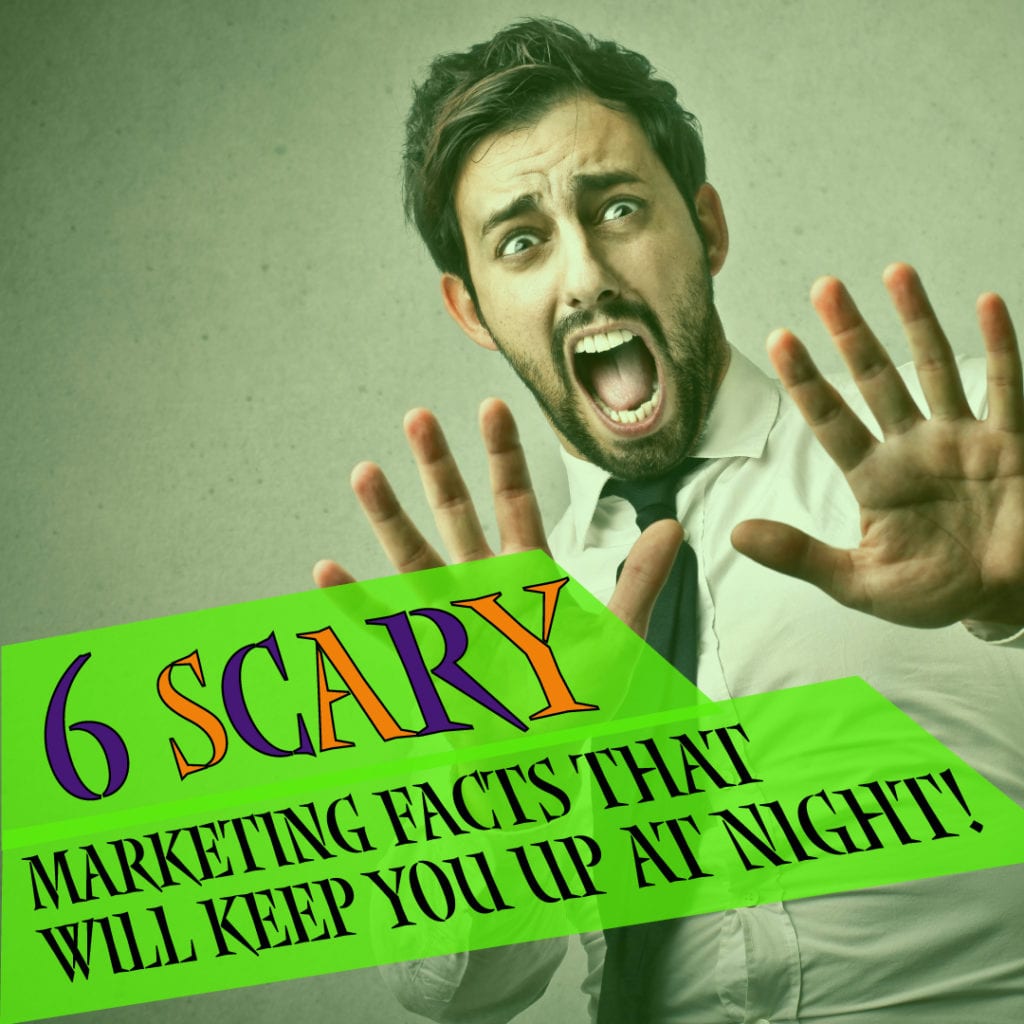 It's an unfortunate truism:
Many small business owners (I dare say MOST) get very little sleep. Especially at first.
Not only because there's so much work to do — but because owning a business is stressful! When we finally do get to bed, we tend to lie awake thinking about everything we're doing, right or wrong,
One of those things is marketing.
Because while it is a VITAL aspect of any successful business plan, it is also easy to spend money and not get the results you need to grow your business!
With that in mind, here are 6 scary statistics that could keep you up at night if you let them — and how to face them head-on so you can market your business effectively.
Scary marketing stat #1: As few as 2% of sales take place on the first contact.
Two percent? That IS scary!
That's a number you'll often hear quoted by sales professionals, but I haven't been able to find evidence myself that it's actually THAT low.
At my company, for example, we close 6% of customers the first time we talk to them.
Obviously, we could not survive — let alone generate $49 million-plus in annual revenue — with those sales alone. So what happens to the other 94%?
They start seeing our Google follow-up ads and receiving postcards, emails and phone calls from us.
In other words: We follow up with them!
Our close percentage goes up to 13% after about a week, and 25% after a year.
That means that 76% of the leads that my company does close do so after the first contact.
The bottom line?
You have to follow up if you want to get those sales!
Scary marketing stat #2: 92% of consumers believe what they read about you online.
The good news? You have more control over what is being said about your business than you think.
Of course you want to manage your online reputation by responding to negative reviews. But even better:
Make sure your positive reviews far outweigh the bad ones — by putting a system in place whereby your happy customers are automatically asked to review your business!
Send a follow-up email to your customers that includes a link where they can leave a review for your business with one click. The simpler you make it, the more people will oblige!
Think about how you choose a new business: You probably read online reviews, too. I know I do. In fact, I recently chose a walk-in clinic because they had a 4.5-star rating based on 220 Google reviews!
While we're on the subject of Google…
Scary marketing stat #3: 75% of people never scroll past the first page of search results.
Not everyone can be on the first page of Google. But that doesn't mean you shouldn't try.
By now you have almost certainly heard of Search Engine Optimization (SEO).
When you optimize your website for search engines, you help Google understand what your website is about so it ranks you higher in the results when people search for what you offer.
The first step to an SEO-friendly website is to use keywords that your prospects are searching for in key positions, like your URL, page titles, headlines and subheadlines.
If you're an HVAC business, for example, that might mean words like:
Air conditioning
Heating systems
(Your location) AC repair
You get the idea.
But there's more to SEO than keyword placement. Other things that affect your ranking are:
Your click-through rate (how many people click the link that goes to your site)
Dwell time (how long visitors stay once they get there)
Backlinks (how many other reputable websites link to your site)
And since Google's algorithms are constantly changing, you want to make sure your web developer is well-versed in SEO best practices.
But even once you get people to your website, there's this to consider…
Scary marketing stat #4: 96% of website visitors are NOT ready to buy.
People who visit your business website have some interest in your product or service — obviously. But if they're not ready to become your customer right then, they leave and go on with their lives…
Then what?
Maybe they will be back to buy — or maybe not. Their interest could fade, or a competitor might be top of mind when they ARE ready to buy.
That's why it's so important to have lead capture forms on your website that collect the contact information of those interested prospects!
Your home page (every page on your website, actually) should have a form where visitors can give you their email address in exchange for something of value, such as:
An ebook
A report
A free quote
A discount
Once the exchange is made and you have their email address, you can follow up with them (See #1) until they are ready to become your customer!
Speaking of customers…
Scary marketing stat #5: The average business loses 14% of its customers per year.
No matter how wonderful your product or service is, you WILL lose customers every year — whether they move away, pass away or switch to a competitor.
Which is why you need to market constantly to generate new leads!
One of the most effective ways to do that is with a direct mail campaign.
Direct mail postcards are a time-tested marketing tool that is as effective today (if not more so!) than ever. Here are some not-so-scary stats:
79% of consumers say they read or at least scan direct mail ads
54% of consumers prefer direct mail for marketing communications
92% of Millennials (you know, the people who are ALWAYS online) have been influenced to make a purchase because of direct mail
Having said that…
Scary marketing stat #6: Direct mail's average response rate is just 2.9%.
That means that only about 3 out of every 100 recipients will act on it.
But consider this:
Direct mail has the highest response rate of any marketing channel — by a LOT. Here are the response rates for other channels when targeting raw prospects:
Online display ads: 0.9%
Social media: 0.6%
Paid search: 0.5%
Email: 0.3%
So direct mail is the clear winner!
But what's even more important in marketing than response rate is your return on investment (ROI).
Here's what I mean:
Say you mailed 10,000 postcards at a cost of $4,000. An "average" campaign would bring in about 290 leads.
If you closed just 100 of those leads and your average sale is $200, you will have generated $20,000. That's a 400% ROI!
And that's how a 2.9% response rate can turn into a huge marketing success!
So there you have them: 6 scary marketing facts that could keep you up at night… and how to be sure they don't!
Sources:
https://www.marketingdonut.co.uk/sales/sales-techniques-and-negotiations/why-8-of-sales-people-get-80-of-the-sales
https://www.brightlocal.com/2015/08/20/92-of-consumers-now-read-online-reviews-for-local-businesses/
https://blog.hubspot.com/insiders/inbound-marketing-stats
https://blog.kissmetrics.com/what-converting-websites-do/
https://blog.hubspot.com/sales/sales-statistics
https://expandedramblings.com/index.php/10-print-marketing-statistics-know/
https://www.adweek.com/brand-marketing/infographic-consumers-know-exactly-how-they-want-be-marketed-167840/
https://nationalmortgageprofessional.com/news/56978/millennials-prefer-direct-mail
https://www.iwco.com/blog/2017/01/20/direct-mail-response-rates-and-2016-dma-report/